Welcome to Sunfab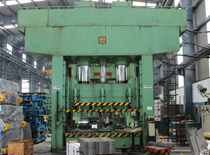 SUNFAB, established in 1984, by Shri. M. Rajendiran, is a pioneer in Sheet Metal Pressing and Fabrication. SUNFAB, serves several prestigious customers as an OEM supplier for automotive, farm equipment, general engineering, electrical, ship building and electronics industries for their requirements in sheet metal parts and assemblies. Almost 75 % of all parts produced at SUNFAB are exported by the customer as a vehicle or a fully finished assembly to markets all over the world. SUNFAB is equipped with wide range of presses from 50 Ton to 1250 Ton Capacities, Welding robots and many other automated manufacturing systems. SUNFAB is ISO 9001:2008 and TS 16949 Certified. SUNFAB, has 2 manufacturing units located in Ambattur, Chennai and work has commenced on a third plant also. The capabilities at SUNFAB include Metal cutting, Pressing, Welding, Tube Bending, Fabrication, Metal Treatment, Painting, Tool Design, Tool Build and Die Try out on Wide bed presses.
Financial rating: FITCH RATING: BB STABLE -2014 –LT, A4+-ST- Investment Grade.
Aero:
SUNFAB is now working on serving the Aerospace and Defence companies for their requirements of specialized sheet metal parts. SUNFAB is ISO 9001:2008 and TS 16949 Certified and is working on AS 9100 certification.